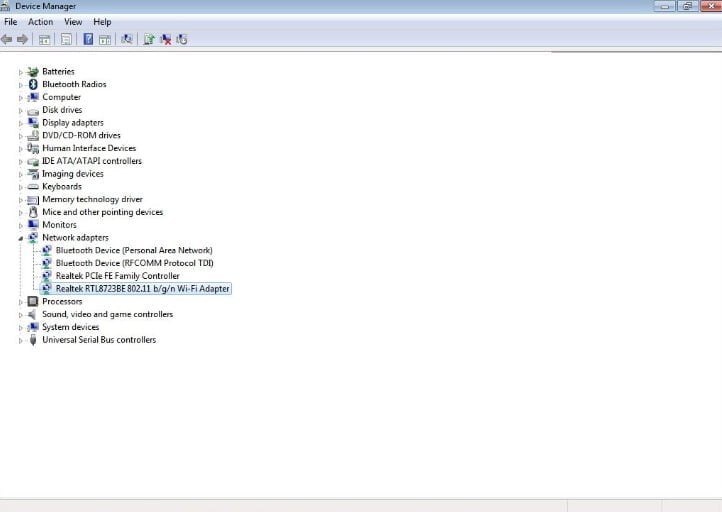 Download realtek rtl8723be drivers for Windows 10, Windows 8.1, Windows 8, Windows 7. Here you can find the complete driver and installation software for realtek rtl8723be wireless lan 802.11n pci-e nic Select from the list of drivers required to download. You can also select your system to show drivers that are only compatible with your system.
RTL8723BE
802.11BGN PCIE WLAN WITH BLUETOOTH 4.0 SINGLE-CHIP CONTROLLER

General description ;

The Realtek RTL8723BE-VB is an 802.11bgn 2.4G single chip that integrates Wi-Fi and a network PCIe interface controller with integrated Bluetooth 2.1 / 3.0 / 4.0 controller. It combines a Wi-Fi MAC, a 1T1R-enabled Wi-Fi baseband and Wi-Fi RF in a single chip. The RTL8723BE-VB offers a complete solution for an integrated Wi-Fi device with high throughput and low power consumption.
Features:
68-pin QFN
802.11bgn
Embedded Balun
Wake-on Wi-Fi
Safe easy pairing
Bluetooth Low Energy
Applications
This product is valid for PC, NB, etc. Wi-Fi Applications
for Realtek PCIe WLAN Family Controller. The driver published on the website only supports the following products:RTL87
23BE / RTL8821AE / RTL8822BE / RTL8821CE / RTL8723DE: Wi-Fi / Bluetooth combination solutions, WLAN and Bluetooth drivers need to be installed RT
L8812AE / RTL8192EE / RTL8188EE: Install Wi-Fi solutions only, Wlan drivers
realtek rtl8723be driver windows :
realtek rtl8723be driver Windows 10, Windows8.1, Windows7 Bluetooth USB Driver 32bit / 64bit (installation package) – Download
realtek rtl8723be Driver Windows 10, Windows8.1, Windows10 WLAN PCI Express Driver 32bit / 64bit (installation package) – Download
 realtek rtl8811au Driver Download